QUINTE WRESTLERS GOLDEN AT COSSA
Details

Published on Friday, 21 February 2014 20:01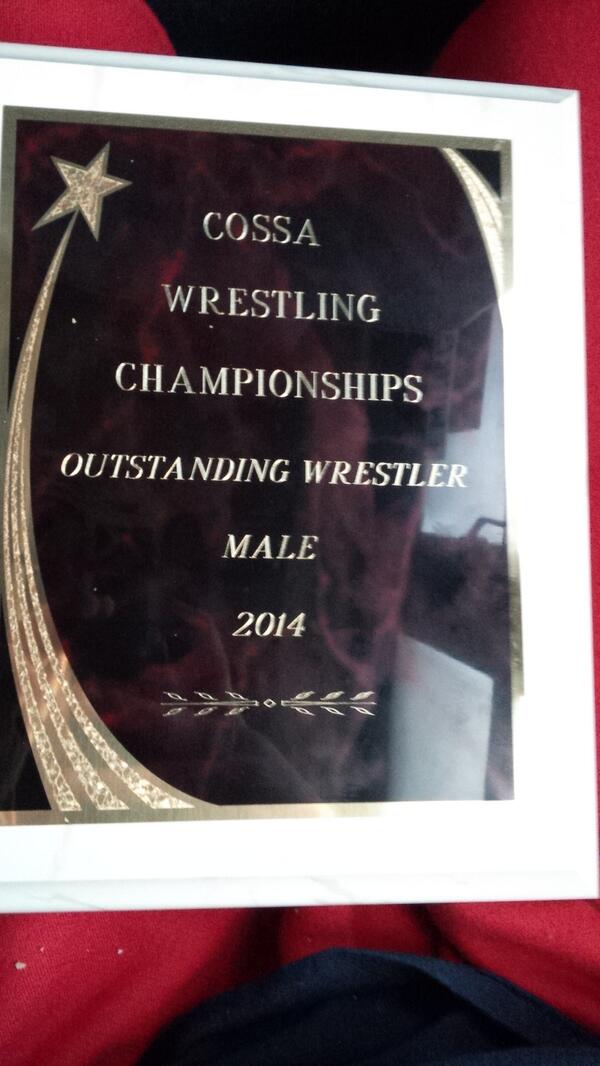 Congratulations to our Quinte Wrestlers who had an outstanding day at the recent COSSA Championships. Cole Goodfellow, Emily Babcock & Meghan Weinhold were all crowned COSSA CCHAMPIONS and will now compete in the OFSAA Championships. Roberta Drummond finished with the Bronze Medal but challenged the Silver Medalist for a chance to go to OFSAA. In what some are calling the match of the day, Roberta defeated the Silver Medalist and now has a berth at the OFSAA Championships in Brampton. John Forsythe had a great day finishing with a Bronze medal losing his OFSAA qualifiying match in the last seconds. Joeb Babcock finished 4th. Thanks so much to all wrestlers for your commitment and dedication. Thanks to our coach Mr. Fischer who dedicates a ton of time to support our athletes. Congratulations to Cole Goodfellow who was also named the Outstanding Male Wrestler of the COSSA Championships. Well done Cole.
BAY OF QUINTE WRESTLING
Details

Published on Monday, 17 February 2014 17:52
Our WRESTLING TEAM had a great showing at the Bay of Quinte Championships! Meghan Weinhold, Cole Goodfellow & John Forsythe were Bay of Quinte Champions! Emily Babcock, Jesse Elliott and Joeb Babcock were Silver Medalists with Elizabeth Drummond fighting for the Bronze Medal. Due to injury, Roberta Drummond had to settle for 4th but will also go to the COSSA Championships. 10 SAINTS Wrestlers will compete at COSSA!
SAINTS WINTER OLYMPICS
Details

Published on Monday, 17 February 2014 17:36
GOLD, SILVER AND BRONZE Winter Olympic Champions! Student council organized this years Winter Olympics which was an amazing day for staff and students. All students who braved the cold had an awesome time playing a variety of games in the snow including, bowling, snowshoe races, sled races, relay, tug of war, and other exciting events.
Valentines Day @ Quinte Secondary School
Details

Published on Monday, 17 February 2014 17:27
Valentines Day was very special for all SAINTS this year. Our very inclusive student council made every student in the school a Valentine Card! In the past, students council had always sold candy grams. The student council felt that every student should recieve a valentine and got busy making cards. So impressive. Thank you so much to our student council.
TOUR FOR HUMANITY
Details

Published on Monday, 17 February 2014 17:21
The Tour for HUMANITY Bus visited Quinte Secondary School on Valentines Day. Students in Grade 10 History, Grade 12 Law, Grade 12 History as well as students in Grade 7 from Parkdale, POW and Harmony had the opportunity to check out the bus and hear the important message about Human Rights. Students were left with the task of thinking about how they could make a difference!
TOP 10 ACADEMIC STUDENTS
Details

Published on Tuesday, 11 February 2014 18:00
We are very proud of our TOP 10 STUDENTS in each grade based on the semester 1 academic results. Congratulations to all students for your outstanding effort and achievement.
GRADE 9 TOP 10 GRADE 10 TOP 10 GRADE 11 TOP 10 GRADE 12 TOP 10
ALLYSON AKEY BRIANNA PALMATEER LINDSAY COCHRANE MEGHAN WEINHOLD
COURTNEY BOLCH LESLIE COCKINS JESSE ELLIOTT MITCHELL CARROLL
LAUREN COOK HAILEY CRIPPS ED GRAY MIKE CRAMAROSSA
JAYDEN HAIGHT CALEB GOODFELLOW TYE GROLEAU JULIANA FRITJERS
CHARLOTTE KITCHENER MAXINE LYNG KAITLYN HOPPER JACQUELINE GOMEZ
KHADIJA SARWAR RUBEN MORALES OLIVER ANNA KREMER COLE GOODFELLOW
BRADY SILVESTRI ERIC SLOAN DANA POWERS BAILEY KIMBALL
RYLEE TEBWORTH JORDAN STANFIELD JESSICA RICHARDSON ALEXANDRA PUTMAN
OLIVIA WILSON TIANNA TISCHBEIN LAURA ROBINSON KIANA TAUGHER
MADDISON WOOD TYLOR THURSTON ACQUELINE WOOD
QUINTE SCHOOL GROUP MAKES A DIFFERENCE
Details

Published on Tuesday, 21 January 2014 18:53

QSS is working together with our school group (Harmony, Prince of Wales, Parkdale, & Tyendinaga) to make a difference in the lives of homeless teens across Canada. If you have any lightly used jeans that you would like to donate to the cause, please bring them to the QSS Guidance office or one of our elementary schools to help make a difference. The Quinte School Group cares about our community.
ENDLESS SUMMER MUSICAL Featuring music of the BEACH BOYS
Details

Published on Tuesday, 21 January 2014 17:12
The Musical Theatre Program at Quinte Secondary School is performing an original production ENDLESS SUMMER on January 22-25 at the Maranatha Auditorium. The production features the music of the BEACH BOYS . Tickets are available at QSS, SAMS and at the door. Show time is 7:00pm. Don't miss this opportunity to see the incredible talent of our students and support our ARTS PROGRAM.
SR. GIRLS BASKETBALL TEAM-COSSA SILVER
Details

Parent Category: Post
Published on Friday, 15 November 2013 12:28
The Sr. Girls Basketball Team had an oustanding season with a record of 16-4 finishing 3rd in their league and advancing to the COSSA Final. Down 25-9 at half, the team came back and tied it in the 4th quarter with some incredible shooting. Losing by 4 in the final moments was tough for the SAINTS but we look forward to next season.
JR. BOYS FOOTBALL TEAM-BAY OF QUINTE CHAMPIONS
Details

Parent Category: Post
Published on Monday, 04 November 2013 01:40
The Jr. Boys Football Team defeated the Centennial Chargers in a very defensive battle 7-6. With only moments on the clock and the Chargers with the ball, the SAINTS defense were like a wall and denied them 3 times! What an outstanding effort as a team. The team will travel to Haliburton on Thursday to compete for the COSSA Crown.
JR. ACADEMIC AWARDS CEREMONY 2013-14
Details

Parent Category: Post
Published on Thursday, 24 October 2013 11:04
PRINCIPAL'S AWARD
Top 5 students in Grades 9 & 10 for the 2012-13 academic school year.
Ms. Bons, Dana Powers, Maxine Lyng, Lindsay Cochrane, Brianna Palmateer, Maddison Wood, Jordan Stanfield, Elizabeth Drummon, Bradley Limin, Roberta Drummond, Ms. Woodley
SAINTS AWARD OF CHARACTER
For exemplary contribution to the Quinte Community by demonstrating outstanding character attributes.
Brad Cook, Ms. Woodley, David Taylor, Lindsey Lindsay, Cole Goodfellow, Bailey Kimball, Thomas Perry, Taylor Alton, Ms. Bons
GIRLS RUGBY-OFSSA CHAMPIONS 2013
Details

Parent Category: Post
Published on Thursday, 06 June 2013 11:45
Quinte's Senior Girls Rugby Team won GOLD on Wednesday at the OFSAA AA CHAMPIONSHIPS in Waterloo, defeating Trenton 10-7 to win the title game for the second year in a row. The game displayed a physical onslaught from both teams rarely seen in girls rugby. But that's what happens when you play each other 3 or 4 times a year. Trenton had not lost this year to anyone, and were the #1 ranked team in the province, including all AA and AAA schools. This makes the win that much sweeter. After Felicia Post scored the opening try in the first 5 minutes, Trenton came back at Quinte, eventually scoring a questionable penalty try decision at the 10 minute mark of the second half. But Quinte never gave up, and after scoring opportunities from Jordan Semark and Brooke Babcock went unrewarded, Sarah Nelles powered in for the penultimate score in the last play of the game, after a three phase buildup that finally broke the Trenton defence. Great job girls ...... you never gave up, and once again you put Bay of Quinte rugby at the forefront of high school rugby in the province. In earlier games the SAINTS defeated Courtice 24-0, Merivale (Ottawa) 27-0 and in the semi-finals defeated St. Annes (Clinton) 26-10! SEE THE FINALS MOMENTS OF THE GAME https://www.youtube.com/watch?v=vwgiuYz_aBU