EXPANDING HORIZONS STUDENT ART SHOW
Details

Parent Category: Post
Published on Friday, 11 April 2014 19:46
Congratulations to Elizabeth Drummond, Amber Leonard-Free, & Katie Chapman who have there amazing artwork displayed in the John M. Parrott Art Gallery at the Belleville Public Library as part of the "Expanding Horizons 2014" Student ART Show. Their works will be displayed from April 3-23 so make sure you get to the library and see the beautiful works of art they have created.
PINK DAY @ QSS
Details

Parent Category: Post
Published on Wednesday, 09 April 2014 16:58
DayofPink is the International Day against Bullying, Discrimination, Homophobia and Transphobia in schools and communities. We invite everyone to celebrate diversity by wearing a pink shirt and by organizing activities in their workplaces, organizations, communities and schools
Hayden Grierson Recieves Maurice Rollins Leadership Award
Details

Published on Monday, 07 April 2014 00:17
Congratulations to Hayden Grierson who recieved the Maurice Rollins Youth Leadership Award at the Annual Volunteer and Information Quinte Breakfast Saturday morning. Hayden was recognized for his exceptional leadership and volunteerism in the Community and at Quinte Secondary School. Hayden has donated a great deal of time as a volunteer in our community and Quinte is very proud of his committment to helping others.
MEDIGAS SCHOLARSHIP RECIPIENT
Details

Published on Tuesday, 25 February 2014 18:01
Congratulations to MCKENZIE HAWKER who is this years recipient of the $5000 Medigas Scholarship. Senior students from Secondary Schools in Belleville who are graduating in their 4th year of high school and are entering an accredited college or university in the health science field of study are eliglbe to apply. One student from each high school receives a scholarship. Applications are judged on academic record, community involvement, extra curricular activities and a 500 word essay.
LOYALIST COLLEGE HOSTS SKILLED TRADE COMPETITION
Details

Published on Friday, 21 February 2014 20:11
Congratulations to our technology students who competed in the Loyalist Skilled Trades Competition. Our Carpentry team of BRAD COOK, CODY TOLLS, ADAM DEJONG AND RUSSELL MCKENNY were the top team in their division! CODY CRIBBETT placed third in the Welding competition. These students will now represent QUINTE at the Skilled Trades Competitions at St. Lawrence and in Waterloo! Well done SAINTS.
QUINTE WRESTLERS GOLDEN AT COSSA
Details

Published on Friday, 21 February 2014 20:01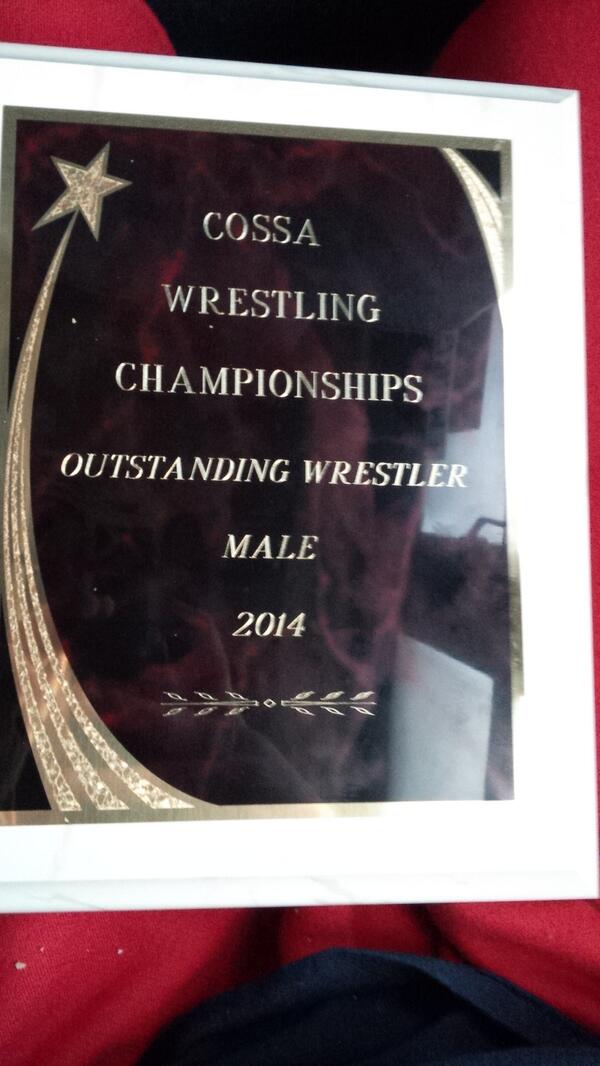 Congratulations to our Quinte Wrestlers who had an outstanding day at the recent COSSA Championships. Cole Goodfellow, Emily Babcock & Meghan Weinhold were all crowned COSSA CCHAMPIONS and will now compete in the OFSAA Championships. Roberta Drummond finished with the Bronze Medal but challenged the Silver Medalist for a chance to go to OFSAA. In what some are calling the match of the day, Roberta defeated the Silver Medalist and now has a berth at the OFSAA Championships in Brampton. John Forsythe had a great day finishing with a Bronze medal losing his OFSAA qualifiying match in the last seconds. Joeb Babcock finished 4th. Thanks so much to all wrestlers for your commitment and dedication. Thanks to our coach Mr. Fischer who dedicates a ton of time to support our athletes. Congratulations to Cole Goodfellow who was also named the Outstanding Male Wrestler of the COSSA Championships. Well done Cole.
BAY OF QUINTE WRESTLING
Details

Published on Monday, 17 February 2014 17:52
Our WRESTLING TEAM had a great showing at the Bay of Quinte Championships! Meghan Weinhold, Cole Goodfellow & John Forsythe were Bay of Quinte Champions! Emily Babcock, Jesse Elliott and Joeb Babcock were Silver Medalists with Elizabeth Drummond fighting for the Bronze Medal. Due to injury, Roberta Drummond had to settle for 4th but will also go to the COSSA Championships. 10 SAINTS Wrestlers will compete at COSSA!
SAINTS WINTER OLYMPICS
Details

Published on Monday, 17 February 2014 17:36
GOLD, SILVER AND BRONZE Winter Olympic Champions! Student council organized this years Winter Olympics which was an amazing day for staff and students. All students who braved the cold had an awesome time playing a variety of games in the snow including, bowling, snowshoe races, sled races, relay, tug of war, and other exciting events.
Valentines Day @ Quinte Secondary School
Details

Published on Monday, 17 February 2014 17:27
Valentines Day was very special for all SAINTS this year. Our very inclusive student council made every student in the school a Valentine Card! In the past, students council had always sold candy grams. The student council felt that every student should recieve a valentine and got busy making cards. So impressive. Thank you so much to our student council.
TOUR FOR HUMANITY
Details

Published on Monday, 17 February 2014 17:21
The Tour for HUMANITY Bus visited Quinte Secondary School on Valentines Day. Students in Grade 10 History, Grade 12 Law, Grade 12 History as well as students in Grade 7 from Parkdale, POW and Harmony had the opportunity to check out the bus and hear the important message about Human Rights. Students were left with the task of thinking about how they could make a difference!
TOP 10 ACADEMIC STUDENTS
Details

Published on Tuesday, 11 February 2014 18:00
We are very proud of our TOP 10 STUDENTS in each grade based on the semester 1 academic results. Congratulations to all students for your outstanding effort and achievement.
GRADE 9 TOP 10 GRADE 10 TOP 10 GRADE 11 TOP 10 GRADE 12 TOP 10
ALLYSON AKEY BRIANNA PALMATEER LINDSAY COCHRANE MEGHAN WEINHOLD
COURTNEY BOLCH LESLIE COCKINS JESSE ELLIOTT MITCHELL CARROLL
LAUREN COOK HAILEY CRIPPS ED GRAY MIKE CRAMAROSSA
JAYDEN HAIGHT CALEB GOODFELLOW TYE GROLEAU JULIANA FRITJERS
CHARLOTTE KITCHENER MAXINE LYNG KAITLYN HOPPER JACQUELINE GOMEZ
KHADIJA SARWAR RUBEN MORALES OLIVER ANNA KREMER COLE GOODFELLOW
BRADY SILVESTRI ERIC SLOAN DANA POWERS BAILEY KIMBALL
RYLEE TEBWORTH JORDAN STANFIELD JESSICA RICHARDSON ALEXANDRA PUTMAN
OLIVIA WILSON TIANNA TISCHBEIN LAURA ROBINSON KIANA TAUGHER
MADDISON WOOD TYLOR THURSTON ACQUELINE WOOD
JR. ACADEMIC AWARDS CEREMONY 2013-14
Details

Parent Category: Post
Published on Thursday, 24 October 2013 11:04
PRINCIPAL'S AWARD
Top 5 students in Grades 9 & 10 for the 2012-13 academic school year.
Ms. Bons, Dana Powers, Maxine Lyng, Lindsay Cochrane, Brianna Palmateer, Maddison Wood, Jordan Stanfield, Elizabeth Drummon, Bradley Limin, Roberta Drummond, Ms. Woodley
SAINTS AWARD OF CHARACTER
For exemplary contribution to the Quinte Community by demonstrating outstanding character attributes.
Brad Cook, Ms. Woodley, David Taylor, Lindsey Lindsay, Cole Goodfellow, Bailey Kimball, Thomas Perry, Taylor Alton, Ms. Bons